Elizabeth's Restaurant and Catering Downtown Batesville Open 6 days a Week – And THE ROLLS ARE AWESOME!! –
Mere words cannot describe a dining experience at Elizabeth's.  I have lived here and worked around the courthouse area many years, and as long as she has been there, that's how long I have been enjoying the fine food she serves daily.  I have also had her cater two Thanksgivings! What a superb way to enjoy a holiday season!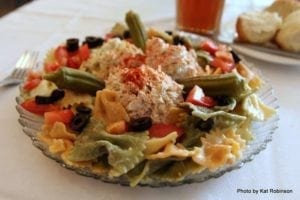 This wonderful restaurant is well known for all its cuisine, especially their huge yeast rolls with sweet butter!  Even if I get a specialty sandwich (and they are all special!), I ask for a roll, just because.  I've never tasted anything like their rolls.  Just buy them by the dozen because they are so delicious.
Her homemade chicken salad and tuna salad can be ordered as sandwiches or in a tomato, and her side fruit is fresh and tasty!  Her Mexican chicken and buttermilk chicken are something you need to try, you will be back again the same day for more.  I absolutely love this restaurant and their food and their owner, Diane (and Ed) White, strive to please their guests.  They know I always beg for a hot roll no matter what I order.  They are friends and live up to their pristine reputation.  And they cater!
I attended a UACCB concert by some Nashville musicians last year, and lo and behold! the main singer announced he had eaten lunch at Elizabeth's and had eaten a most wonderful delight of something yummy and fluffy and sweet!  I yelled out Yeast Rolls and Honey Butter!  He asked me to say it again, and he sat right there onstage and wrote a whole song about Elizabeth's and her Yeast Rolls and Honey Butter!  Very entertaining!
Every year she feeds youngsters from area schools in extracurricular programs, on one occasion to those who had written essays for a GT class.  The year my granddaughter was a guest, she had her favorite, fried chicken and mashed potatoes and rolls, wish I had been there!
Elizabeth's is located at 231 E. Main Street, Batesville, AR  72501, 698-0903 or 870-698-9890.  Call for a meal or catering an event.  Open 6 days a week, Tuesday-Sunday 11-2, and also 5 pm to 9 pm Thursday and Friday night.  You will be so pleased, and tell them Ginger sent you.
The following two tabs change content below.

Ginger Smith joined OGTC a couple of years ago as a volunteer, and has lived in this area since 1972 when she moved to be near her parents, the late Doss and Vivian Burgess. Her late father was Independence County Appraiser and any time family, whether kids or grand kids, came to visit for even a short time, he would take them to A.D. Hill's grocery store, and get them a soda pop and candy bar, see the talking bird there, and end up "checking out the great White River." All the kids and grands have played on the banks there, picnicked, and played on the old train. Ginger is adamant, since she moved to Batesville, there is just no other place to raise a family. Her love for the area and desire to help promote it in her professional capacity led her to seek volunteering, and Charlie Morris, whom she met when she was a typesetter at the Daily Guard Newspaper, put her in touch with Cathy Drew, Executor Director of OGTC. She has been on board since then and says she has loved everything she has done and is proud to represent North Central Arkansas.
The last 20 years of her employment she worked for the late County Judge David Wyatt, West Elementary School Principal Jerry Harris, and Circuit Clerk Claudia Nobles and Judge John Kemp. At the Guard Office she says she made friends for a life time, and then the West Elementary teachers, students, and their families grew close to her forever. Her last job she was hired in a newly created position to collect felony fines and restitution. She was so proud that after three years she more than tripled the annual revenues that she retired! Her part-time retirement job was with the ortho docs, Drs. Allen and Angel where she also met many people from all over the area, and made another set of new friends! She is a published writer and has also written feature articles for the Batesville Guard TV Guide and the Arkansas Democrat Gazette.
She has a daughter, Misty Long Sparks, son-in-law Dloyd Sparks, and three grands, Dalton Lee, Victoria Lynn and Anna Rose, and says they are her greatest joys on earth. Her late husband, Ken Smith, was the Batesville Postmaster.
Totally retired now, Ginger offers her time and writing abilities to OGTC as she travels around the state and visits with so many nice folks, writes reviews, and tries to be a worthy representative for Ozark Gateway Tourism. She is a people person who really cares for all God has blessed us with in our beautiful state of Arkansas in the United States of America.

Latest posts by Ginger Smith (see all)