Horseshoe Bend Chamber announces Family Fun Annual Dogwood Days Festival set for May 13th (Posted by Ginger Smith)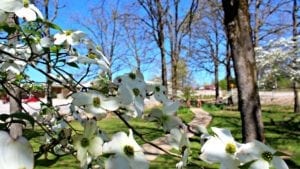 Horseshoe Bend Chamber announces Family Fun Annual Dogwood Days Festival set for May 13th – However, THE TRACTOR PULL HAS BEEN CANCELLED AT THIS EVENT!
The Horseshoe Bend Area Chamber of Commerce is planning a day of fun for the whole family. The annual Dogwood Days Festival will take place on Saturday, May 13, 2017 in the lower parking lot of the Diamond B Mall. All festival activities will be free to attend, thanks to generous donations from our community and surrounding area.
Annual Dogwood Days Festival is held annually around the time the dogwood trees are in bloom, and features food and craft vendors, entertainment, and lots of games for the kids.
This year's event will kick off with a 5K fun run at 8:00 a.m., then vendors will open at 9:00 a.m. The Chamber is looking forward to having plenty of games for the kids, plus food and craft vendors, live music, a terrapin race, at different times throughout the day.
To become a sponsor, request a vendor application or a 5K registration form, please stop by the Chamber office. You may also call 870.670.5433 or email:horseshoebendarcc.com.
Be sure to like the Chamber's Facebook page at facebook.com/hsbacc to keep up with the ever growing, exciting schedule of events!
(NO TRACTOR PULL AT THIS EVENT, SORRY!!)
Dates:
May 13, 2017
Hours:
9:00 a.m. – 4:00 p.m.
Venue:
City Park and Diamond B Mall
Address:
811 2nd Street #16
Horseshoe Bend, AR 72512
Admission:
Free
Contact:
Chamber of Commerce
The following two tabs change content below.

Ginger Smith joined OGTC a couple of years ago as a volunteer, and has lived in this area since 1972 when she moved to be near her parents, the late Doss and Vivian Burgess. Her late father was Independence County Appraiser and any time family, whether kids or grand kids, came to visit for even a short time, he would take them to A.D. Hill's grocery store, and get them a soda pop and candy bar, see the talking bird there, and end up "checking out the great White River." All the kids and grands have played on the banks there, picnicked, and played on the old train. Ginger is adamant, since she moved to Batesville, there is just no other place to raise a family. Her love for the area and desire to help promote it in her professional capacity led her to seek volunteering, and Charlie Morris, whom she met when she was a typesetter at the Daily Guard Newspaper, put her in touch with Cathy Drew, Executor Director of OGTC. She has been on board since then and says she has loved everything she has done and is proud to represent North Central Arkansas.
The last 20 years of her employment she worked for the late County Judge David Wyatt, West Elementary School Principal Jerry Harris, and Circuit Clerk Claudia Nobles and Judge John Kemp. At the Guard Office she says she made friends for a life time, and then the West Elementary teachers, students, and their families grew close to her forever. Her last job she was hired in a newly created position to collect felony fines and restitution. She was so proud that after three years she more than tripled the annual revenues that she retired! Her part-time retirement job was with the ortho docs, Drs. Allen and Angel where she also met many people from all over the area, and made another set of new friends! She is a published writer and has also written feature articles for the Batesville Guard TV Guide and the Arkansas Democrat Gazette.
She has a daughter, Misty Long Sparks, son-in-law Dloyd Sparks, and three grands, Dalton Lee, Victoria Lynn and Anna Rose, and says they are her greatest joys on earth. Her late husband, Ken Smith, was the Batesville Postmaster.
Totally retired now, Ginger offers her time and writing abilities to OGTC as she travels around the state and visits with so many nice folks, writes reviews, and tries to be a worthy representative for Ozark Gateway Tourism. She is a people person who really cares for all God has blessed us with in our beautiful state of Arkansas in the United States of America.

Latest posts by Ginger Smith (see all)