Kin Folks Restaurant in Mountain View Always Satisfies Hungry People! (Posted by Ginger Smith)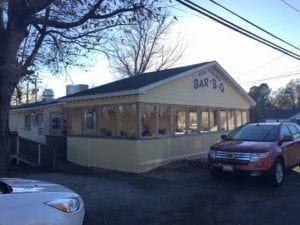 Kin Folks Restaurant in Mountain View Always Satisfies Hungry People!
There are many vacation attractions in and around Mountain View, among them a place where I've eaten for many years and I ALWAYS love their awesome cooking!   I've attended the Folk Festival the last two years and the Bean Fest several times over the years.  I check out all the eateries around the Mountain View square and others in the surrounding area.  I have been mostly focused on events around the square if in the area, and I find myself drifting many, many times to the yellow diner right off the square – Kin Folks.  Yes, I've taken kin folks there and I've went with friends, and you know, we always go in hungry and leave happy!
Last weekend at the Folk Festival I once again drifted in and found a seat.  The BBQ was awesome with slaw and mild sauce, my husband had beans and cornbread.  Of course, dessert was ice cream!  Black walnut is always a "have to have" if it is available, and it is the best I've eaten anywhere.  After filling  our tummies, we were able to walk right back out literally in the middle of music groups playing impromptu everywhere you turn.  What a wonderful place to be for live music, fellowship, visiting with strangers sitting by you!, and food you will always go back for more!
Mountain View is one of the busiest most bustling little towns around, and Kin Folks invites everyone whether driving through, visiting, or a resident, come by and let them make you smile and rub your tummy! Often times, I see Ozark Folk Center State Park entertainers there, as well as some of the youth who perform in all the local events.  It's a great place you have to try!
They offer Great BBQ sandwiches and ribs,  Old fashioned ground fresh daily burgers. Homemade lunch specials Monday-Friday starting at 11:00 am until they last.  I actually recently saw "fried pecan pies!"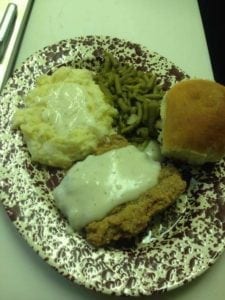 You may check out their menus and times on their Face book page.  I read a couple of the many excellent reviews: Excellent food! A great variety of different foods. The ribs fall off of the bone! And the service is so great. And the icing on the cake, outdoor eating area's with locals playing their music!"  and "Best place in Mountain View. Food is always good and the staff is super friendly. My husband loves their burgers and chicken enchilada day is a must for me!"
Located right off the square at 118 Howard Avenue, you may also call them at 870-269-9188.  They are open 11 am – 11 pm most days.  Tell them Ginger sent you!!
The following two tabs change content below.

Ginger Smith joined OGTC a couple of years ago as a volunteer, and has lived in this area since 1972 when she moved to be near her parents, the late Doss and Vivian Burgess. Her late father was Independence County Appraiser and any time family, whether kids or grand kids, came to visit for even a short time, he would take them to A.D. Hill's grocery store, and get them a soda pop and candy bar, see the talking bird there, and end up "checking out the great White River." All the kids and grands have played on the banks there, picnicked, and played on the old train. Ginger is adamant, since she moved to Batesville, there is just no other place to raise a family. Her love for the area and desire to help promote it in her professional capacity led her to seek volunteering, and Charlie Morris, whom she met when she was a typesetter at the Daily Guard Newspaper, put her in touch with Cathy Drew, Executor Director of OGTC. She has been on board since then and says she has loved everything she has done and is proud to represent North Central Arkansas.
The last 20 years of her employment she worked for the late County Judge David Wyatt, West Elementary School Principal Jerry Harris, and Circuit Clerk Claudia Nobles and Judge John Kemp. At the Guard Office she says she made friends for a life time, and then the West Elementary teachers, students, and their families grew close to her forever. Her last job she was hired in a newly created position to collect felony fines and restitution. She was so proud that after three years she more than tripled the annual revenues that she retired! Her part-time retirement job was with the ortho docs, Drs. Allen and Angel where she also met many people from all over the area, and made another set of new friends! She is a published writer and has also written feature articles for the Batesville Guard TV Guide and the Arkansas Democrat Gazette.
She has a daughter, Misty Long Sparks, son-in-law Dloyd Sparks, and three grands, Dalton Lee, Victoria Lynn and Anna Rose, and says they are her greatest joys on earth. Her late husband, Ken Smith, was the Batesville Postmaster.
Totally retired now, Ginger offers her time and writing abilities to OGTC as she travels around the state and visits with so many nice folks, writes reviews, and tries to be a worthy representative for Ozark Gateway Tourism. She is a people person who really cares for all God has blessed us with in our beautiful state of Arkansas in the United States of America.

Latest posts by Ginger Smith (see all)