Successful Coaching Program at Museum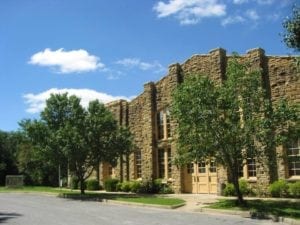 Watching or listening to sports teams compete can be great fun. At times, focusing on how the coaches may have built their game plan or watching how they react to their players in the midst of a game can also be exciting or entertaining.
Old Independence Regional Museum is offering their third monthly program about sports on Sunday, April 9 at 2 p.m. It will feature two highly successful head coaches from the Batesville community.
Tracy Stewart-Lange is the head women's basketball coach at Lyon College, and Dave King is the head football coach and athletic director at Batesville High School. These two coaches epitomize the museum's 2017 theme of Our Team –Our Pride.
Both of these coaches were award-winning college athletes. Coach King was an All-American baseball player at John Brown University, and Coach Stewart-Lange was an All-District and All-Conference basketball player and was the Winnie Marable Award recipient as the top female student athlete her senior year at Arkansas (now Lyon) College. She is also a member of the Lyon College Athletic Hall of Fame.
Coach King's Batesville High squads have averaged nine victories per season during his 20-year tenure. His teams have won a state championship and have reached at least the semi-finals of the state playoffs each of the last seven seasons.
Coach Stewart-Lange returned to her hometown of Batesville to raise her family and lead the Lyon women's program after coaching at the NCAA Division I level at several SEC and Sunbelt Conference universities. Her Lyon teams have qualified for the NAIA National Tournament each of the last six seasons, and have consistently been nationally ranked.
The coaches will share insights into their coaching philosophies through a panel discussion format. Those attending will be invited to ask them questions and discuss with them varying ideas about coaching.
"We are excited to hear these two coaches share their thoughts, and to have an open forum for the audience to interact with them," said Twyla Wright, museum exhibit curator. "We had a great time, with a full house, last month when Coach Stuart Smith talked about local athletic champions. I hope the community will come out for each of these monthly programs and enjoy them,  along with our sports exhibit. Remember— the Smithsonian Institution's traveling exhibit will also open in our museum at the end of this year!" Wright said.
Upcoming programs will focus on sports photography, media sports coverage, community recreation, player safety, regional sports history and more. Bruce Johnston, museum program chairman encourages readers to watch for future announcement of each of these interesting programs, which are free and open to the public.
The program will be free and open to the public.  Normal museum hours are: Tuesday-Saturday, 9 a.m. to 5 p.m.  Admission is $3.00 for adults, $2.00 for seniors and $1.00 for children.  The museum is located at 380 South 9th street, between Boswell and Vine Streets in Batesville.
Old Independence is a regional museum serving a 12-county area: Baxter, Cleburne, Fulton, Independence, Izard, Jackson, Marion, Poinsett, Sharp, Stone, White, and Woodruff.  Parts of these present-day counties comprised the original Independence County in 1820's Arkansas territory.
The following two tabs change content below.

Cathy Drew is a long time resident of the region that she loves to promote! As a matter of fact, she was born in Downtown Batesville in the late '60s in one of the eight counties she now loves to encourage people to visit. Drew states, "it is a pleasure to encourage people to visit the region that has been part of my entire life, what better career than being able to promote tourism in the region I call home!"
Drew is married to her husband of 25 years, Jeff Drew. She has one step-son – Corey Richardson, his wife Lydia and their daughter Zaya and their son Nathaniel . Jeff and Cathy also have a son, Jonathon (Jon) Drew and his fiancé Devyn Stewart and their son Jase. Of course Drew can't skip the other part of her family, the pets! Lady Bird (a stray that was welcomed into their home in 2012) and of course Howard – the puppy was compliments of Lady Bird shortly after arrival at the Drew home.
Drew has been involved with the Ozark Gateway Region since 1990 when she began work for the Media Market, Inc. which was the ad agency for the region. She worked for 10 years helping produce the region tabloid. In 2000, she stepped into the the Executive Director position for the region and has worked to see the region prosper. Soon after her new position she helped the region change from the old paper tabloid look to a nice color magazine format that is more user friendly and something visitors want to keep for years to come. She also helped the region get a more user friendly website and has been working since then making sure the region is doing all it can to make it easy for those interested in the area to find useful information at their fingertips.
Drew has been a member of the Batesville Rotary Club since June of 2000 and is recognized as a past president of the club as well as a two time Rotary Paul Harris Fellow and also the 2009-2010 Batesville Rotary Club Rotarian of the Year.
Cathy also is part of the Arkansas Travel Council where she has served as a board member since 2001. She recently accepted a position as a board member for the Ozark Foothills Film Fest.
Cathy and her husband Jeff enjoy touring the Ozark Gateway Region on their motorcycle. "It is so much fun riding around this beautiful region with the wind in your hair and the chance to view the scenic beauty we sometimes take for granted. We live in one of the most beautiful area's and I enjoy any chance to take advantage and simply take a weekend ride across this beautiful area!"
Add me to your G+

Latest posts by Cathy Drew (see all)